Our Vision
Our vision is a world without breast cancer.


Working Toward a Cure for All Cases of Breast Cancer

For the benefit of all patients and their families whose lives have been or will be affected by breast cancer, the JBCRG is working to improve breast cancer treatment and outcomes. Our ultimate aim is a world in which all cases of breast cancer are curable and no more lives are lost to this disease.
Our Principles
We conduct research in a way that ensures the scientific validity of our findings.
The human rights of patients with breast cancer are our top priority. Our research is conducted in accordance with national and international ethical standards.
We are committed to transparency regarding the funding of our research.
Greetings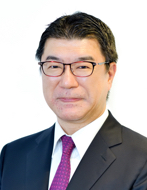 Physicians strive to provide the best medical care for their patients. However, the accumulation of clinical experience is, on its own, insufficient to realize advances in medical care for future patients. Progress in breast cancer treatment would not be possible without high-quality basic and clinical research. Since its establishment, the JBCRG has been working to improve breast cancer treatment in Japan and worldwide. We have completed dozens of clinical studies and our findings have been well received. We are also helping to train the breast cancer specialists of the future and to disseminate the findings of clinical research.
Collaboration between institutions and research organizations within Japan and internationally maximizes the likelihood of making advances in breast cancer research. The JBCRG is a member of the Breast International Group, one of the world's largest organizations dedicated to improving breast cancer treatment. The Breast International Group was founded in 1996 and comprises 59 clinical research groups in 55 countries; we play a central role in the work of the 11 groups in Asian countries.
The JBCRG is working to determine the best current treatments for breast cancer and to develop new therapies for the disease. Collaboration with our global research partners is crucial to achieving these aims in the shortest timescale. We greatly appreciate your continuous support and cooperation.
Representative Director
Breast Oncology Center
Cancer Institute Hospital of JFCR
Shinji Ohno
Organizational chart
Officers list
Represen
tative
Director
Shinji Ohno
Breast Oncology Center, Cancer Institute Hospital of JFCR
Auditor
Reiki Nishimura
Kumamoto Shinto General Hospital
Executive Director
Hiroji Iwata
Breast Oncology, Aichi Cancer Center Hospital
---
Katsumasa Kuroi
Ebara Hospital
---
Shigehira Saji
Medical Oncology, Fukushima Medical University
---
Masakazu Toi
Surgery (Breast Surgery), Graduate School of Medicine and Faculty of Medicine, Kyoto University
---
Norikazu Masuda
Surgery, Breast Oncology, National Hospital Organization Osaka National Hospital
Director
Kenjiro Aogi
Breast and Endocrine Surgery, National Hospital Organization Shikoku Cancer Center
---
Hiroshi Ishiguro
Department of Medicine, Clinical Oncology, International University of Health and Welfare, School of Medicine
---
Takayuki Ueno
Breast Surgical Oncology, Breast Oncology Center, Cancer Institute Hospital of JFCR
---
Shoichiro Ohtani
Division of Breast Surgery, Hiroshima City Hiroshima Citizens Hospital
---
Hidetaka Kawabata
Breast and Endocrine Surgery, Toranomon Hospital
---
Yasuaki Sagara
Hakuaikai Sagara Hospital
---
Hironobu Sasano
Department of Anatomic Pathology, Tohoku University Graduate School of Medicine
---
Chikako Shimizu
Department of Breast Medical Oncology, National Center for Global Health and Medicine
---
Koichiro Tsugawa
Breast and Endocrine Surgery, Surgery Department, St Marianna University School of Medicine Hospital
---
Seigo Nakamura
Breast Surgical Oncology, Showa University School of Medicine
---
Takahiro Nakayama
Osaka International Cancer Institute
---
Naoki Niikura
Department of Breast and Endocrine Surgery, Tokai University Hospital
---
Toshinari Yamasita
Department of Breast and Endocrine Surgery, Kanagawa Cancer Center
---
Hiroko Yamashita
Breast Surgery, Hokkaido University Hospital
---
Yutaka Yamamoto
Breast and Endocrine Surgery, Graduate School of Medical Sciences Kumamoto University